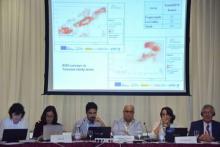 ECOSAFIMED partners took part in the Joint Meeting on Marine protected Areas in the Mediterranean and Black Sea to introduce the project, its characteristics and its preliminary results in Tunisia. The meeting was held in Gammarth, Tunisia, from 9 to 12 June 2015.
In fact, ECOSAFIMED project is implemented in six study areas, of which 3  are Marine Protected Areas (MPAs): Balearic Islands (Minorca Channel) in Spain; Gulf of Patti in Italy; and La Galite archipelago in Tunisia.
Marine Protected Areas (MPAs) have proved their usefulness in the conservation of the marine environment and in restoring degraded habitats and depleted species populations. Their role in the economic and social development and in ensuring sustainable livelihood sources is being increasingly recognized. Regional organizations aimed at promoting the implementation and strengthening of marine protected areas in the Mediterranean organized the joint meeting, namely the Regional activity Centre for Specially Protected Areas (RAC/SPA) of the Barcelona Convention, the General Fisheries Commission for the Mediterranean (GFCM) and the Secretariat of the Agreement on the Conservation of Cetaceans in the Black Sea Mediterranean Sea and Contiguous Atlantic Area (ACCOBAMS).
 
Given the importance of this joint meeting, the Network of Marine Protected Area Managers in the Mediterranean (MedPAN) and the International Union for the Conservation of Nature (IUCN) also participated. A wide range of MPA specialists (scientists, MPA managers, administration officers, etc.) along with other ECOSAFIMED associates attended the event, which offered a positive step forward inter-organization collaboration regarding Mediterranean MPAs.
All participants engaged in a collaboration process aimed at promoting the exchange of information and experiences, ensuring a high level of harmonization of their relevant programmes and thus contributing to the EU Directives and to the Barcelona Convention.
 
In this context, ECOSAFIMED took this valuable opportunity to contribute to take stock of the available knowledge about the Mediterranean marine areas of special conservation interest because of their importance for biodiversity, especially regarding the sustainability of fisheries.
 
The Communication Manager of the ECOSAFIMED project, Khalil Ellouze, introduced the objectives of the project: first, to evaluate the impact of artisanal fishing on benthic communities; second, to propose a set of recommendations to increase the sustainability of the artisanal fisheries; and third, to identify potential marine protected areas.
 
Mr. Ellouze explained how project partners are involving fishermen in each study area in the Mediterranean to produce a set of recommendations and to increase the sustainability of the artisanal fisheries. Together, project actors in each study area are working towards signing stewardship agreement consisting of fishing good practices as recommendations to sustain the Mediterranean benthic communities. Among the preliminary results in the Mediterranean southern shore, La Galite area in Tunisia showed an exceptional and outstanding richness of its benthic communities.