Fecha:
Wednesday, 4 February, 2015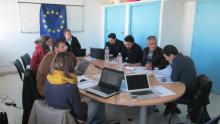 The Biodiversity Foundation of the Ministry of Agriculture, Food and the Environment took part in a meeting held in Tunisia recently to monitor the "Ecosystem conservation and sustainable artisanal fisheries in the Mediterranean basin (ECOSAFIMED)" project, a cross-border co-operation initiative co-ordinated by Spain, co-funded by the European Union, with Tunisia and Italy as partners.
During the meeting, held on 3 and 4 February at the National Institute of Marine Science and Technology of Tunisia, representatives from Tunisia and Spain made progress in planning forthcoming oceanographic surveys in Tunisia to identify sea bed habitats, for which researchers from the ICM-CSIC have collaborated by helping to establish sampling methods and techniques.
Meetings have also been planned with fishing associations, to present the project and explain their involvement in it, and to provide various informative materials produced as part of the project.
The ECOSAFIMED project forms part of the ENPI Mediterranean Basin programme, and promotes responsible practices in artisanal fisheries and the conservation of benthic ecosystems in the coastal regions of the Mediterranean. To that end, it conducts oceanographic surveys to study different areas of the Mediterranean. In Spain, areas of Catalonia and the Balearic Islands are being studied.
In Tunisia, ECOSAFIMED managers have also met with the National Point of Contact from the European Commission in Tunisia and with other Tunisian authorities in charge of managing funds allocated to the country.
ECOSAFIMED is co-ordinated by the Ministry's Biodiversity Foundation and has a budget of almost €2 million, co-financed by the European Commission's ENPI CBC MED 2007-2013 Programme, with involvement from the Institute of Marine Science of the Scientific Research Council (ICM-CSIC), the Tunisian National Institute of Marine Science and Technology, and the University of Genoa.